Curry pot au feu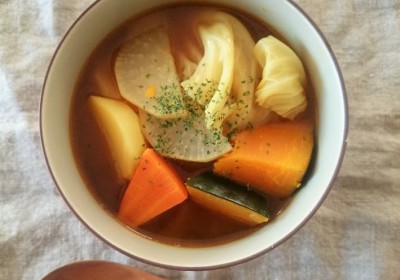 <Basic information>
・Serving size:1 person
・Preparation time:20 minutes
<Ingredient&Amount>
1/8 cabbage
1/4 onion
1/4 carrot
1/8 pumpkin
1 small potato
3cm radish
1/6 Alishan vegetable bouillon
2 big spoons curry powder made of rice flour
300cc water
*A big spoon: 15g
<Directions>
1. Cut vegetables into easy-to-eat size.
Heat up pieces of a pumpkin in a microwave first for approx 1 minute and cut them.
2. Put vegetables, water and vegetable bouillon and boil on medium heat for approx 10 minutes.
3. Once cooked pieces of a pumpkin and a potato, sprinkle and melt curry powder, and ready to serve.
<Cooking point>
Please use materials as you like, since you can cook remained vegetables in a refrigerator.
We add sweet taste by a pumpkin, and we can also use a sweet potato to make it delicious.
If you add curry powder, it would not be soup, but be curry sause. Please add curry powder as appropriate.