Kabocha no nitsuke (Pumpkin boiled and seasoned)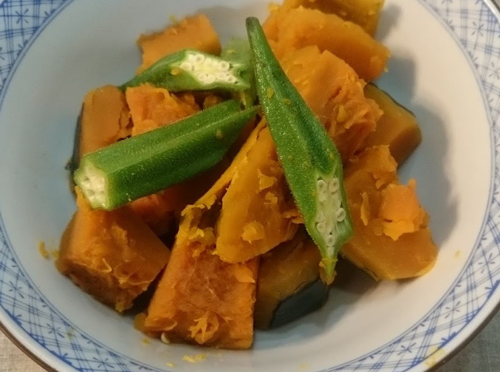 <Basic information>
Serving size: 4 person
Preparation time: 30 minutes
<Ingredients&Amount>
1/4 Pumpkin
250cc Dashi (Japanese broth)
2 Big spoons Beet sugar
2 Big spoons Soy sauce
*1 big spoon = 15cc
<Directions>
1.Heat up pumpkin in a microwave for 2 minutes to cut it easily.
2.Cut pumpkin into 2~3cm cubes, and remove its corners.
3.Put pumpkins in a pot, place it upward peel side and add dashi (Japanese broth), beet sugar and soy sauce as turning.
4.Simmer 3 over medium flame for 15 minutes with a small lid resting directly on the pumpkins. Pumpkins are cooed, finish!
<Cooking point>
You can boil this dish without sweet sake and alcoholic.
Removing pumpkin's corners means cutting thinly peel side corners to prevent breaking into pieces.
Please pay attention to too be burned for boiling pumpkin because it loses broth quickly.