Cooking Event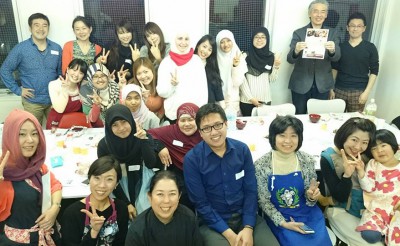 HALAL RECIPES JAPAN have cooking events "Muslim Friendly Japanese Washoku cooking event" regularly to promote understanding and interest for HALAL food.
Through these events, we would like to share with participants, as for what we can enjoy eating the same meal all together, regardless of religious, borders, sex and the age, if we have right knowledge and some arrangements.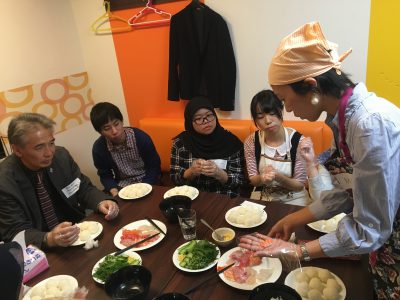 For Japanese, it is the good opportunity to understand for Muslim and HALAL.
For Muslims, it is the good opportunity to learn how to cook Japanese home cooking easily.
Please feel free to join us!!
Participant's Voice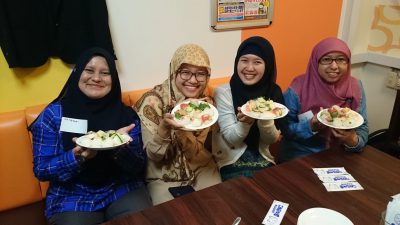 ・It's a really good event. I can learn to cook Japanese food and more new friends.(Muslim student)
・It's my first HALAL food experience. I recognized a lot of things. I want to participant in the future actively. (Non-Muslim / Japanese)
・It was a very nice opportunity to communicate with Muslim through HALAL cooking. I would like to join again! (Non-Muslim / Japanese)
Event information
| | | |
| --- | --- | --- |
| August 21st, 2016 (Sun.) 13:00- | Special event: Takoyaki & Karaoke party | finished. Here is report |
| July 16th, 2016 (Sat.) 17:30- | 4th Gyoza Party | finished. |
| May 21st, 2016 (Sat.) 13:30- | 3rd Temari-sushi & Karaoke party | finished. Here is report |
| April 2nd, 2016 (Sat.) 11:00- | 2nd  Onigirazu & Miso-ball | finished. Here is report |
| February 26th, 2016 (Sat.) 17:30- | 1st Temari-sushi (Handboll style sushi) | finished. Here is report |