Very easy! Homemade strawberry sorbet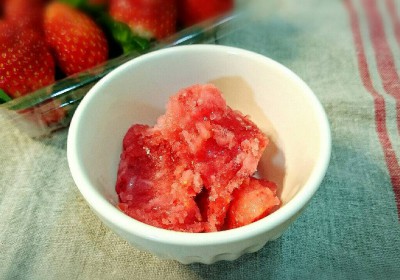 <Basic information>
・Serving size:4 people
・Preparation time:15 minutes+Frozen time 3 hours
<Ingredient&Amount>
・1 package strawberry (Approx 250g, 7-8 big pieces)
・1 1/2 big spoons granulated sugar
*1 big spoon: 15g
<Directions>
1. Remove a full of a strawberry and cut into four equal parts longways (For a big strawberry, furthermore, cut into two halves sideways.).
2. Put strawberries in a heat resistant container and crush with a fork roughly.
3. Mix granulated sugar with 2. and put in a freezer for an hour.
4. When it is about to setting, you shall take it off, and mix the whole roughly . Again, put in a freezer for two hours and ready to serve.
<Cooking point>
・My mother often used to cook this recipe when I was a child.
・Even though we use only strawberries and sugar, it is very delicious and children like this strawberry sorbed very much.
・In order to feel tactual sense of strawberries when it gets ready, please do not use a blender and just leave the pulp.
・The point is to mix before freezing perfectly and include air!
・10-15 minutes prior to eating, you shall take it off, make it melted slightly and serve it.