Maccha green tea youkan (Maccha green tea flavored sweet and jellied bean paste)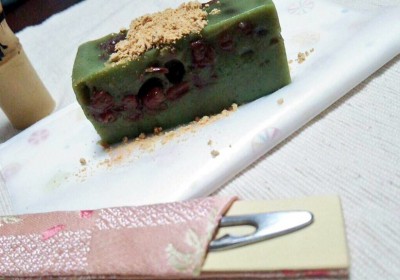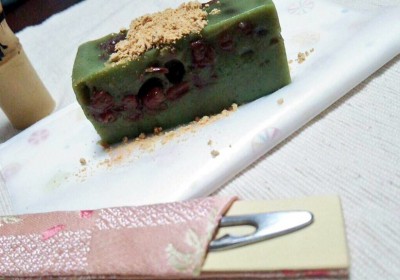 <Basic information>
・Serving size:2 people
・Preparation time:50 minutes
<Ingredient&Amount>
2g agar flour
75ml water
50ml soymilk
15g (1.5 big spoon) beet sugar
5g (2.5 small spoon) maccha green tea
20g boiled water
100g boiled red bean
10g(1.5 big spoon)
*A big spoon: A table spoon
*A small spoon: A tea spoon
<Directions>
1. Put water and agar flour in a pan, mix well by a wood spatula and cook on medium heat and boil in boiling water for 1-1.5 minutes.
2. Add beet sugar, when melt down, turn off the heat and add soymilk.
3. For maccha green tea, in order to avoid clumping, mix well by boiled water.
4. Add maccha liquid and mix the whole, add boiled red bean and mix fastly.
5. Put the dough into a cooking vat which gets wet by water inside. Once leave a container on the cold water and let it cool, cool it down and solidify in the refrigerator for 30 minutes to an hour.
6. Cut into easy-to-eat pieces, serve on the plate, sprinkle toast soybean flour, and get ready.