Steam salad with dipping sauce of miso mayonnaise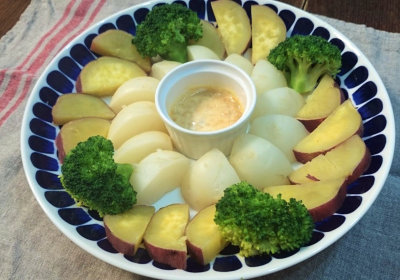 <Basic information>
・Serving size:1 person (A picture shows for 4 people)
・Preparation time:15 minutes
<Ingredient&Amout>
1 turnip
2cm sweet potato
1/8 of broccoli
1/2 small spoon of miso
1/2 small spoon of halal certified mayonnaise
*A small spoon: 5g/5cc
<Directions>
1. Remove leaves from a turnip and cut in quaters.
Cut a sweet potato into semicirculer 1cm width pieces. Cut a flower bud part of a broccoli.
2. Heat up cut vegetables by a steamed cooker for approx 10 minutes.
3. Mix miso and mayonnaise and make a dipping sause.
4. Put steamed vegetables on a plate and ready to serve.
<Cooking point>
It is salad to cook by seasonal vegetables easily from autumn to winter.
By using not a microwave but a steamed cooker, it would be done tp be moist, not by losing vegetable moisture.
Please try to use vegetables as you like.