Sweet potato muffins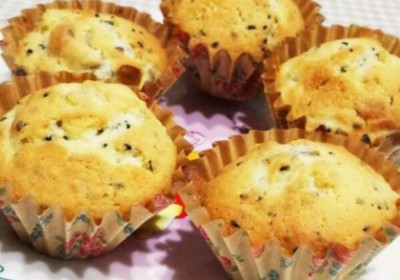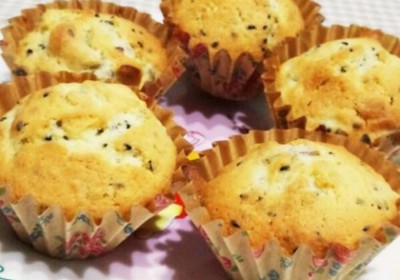 <Basic information>
・Serving size:Muffin pan (Diameter7cm×Height4cm)xapprox 6 pieces
・Preparation time:50 mihnutes
<Ingredient&Amount>
150g sweet potato
●1 big spoon brown sugar
50g butter
50g brown sugar
1 egg
1 big spoon black sesame
*100g wheat flour
*1 small spoon baking powder
4 big spoons milk
*A big spoon: 15cc/15g
*A small spoon: 5cc/5g
<Directions>
1. Cut sweet potato into 1cm size cubes and put in water.
2. Drain off water and put them in a heat resistant container, wrap softly with plastic wrap and heat at 500w microwave heat for 3 minutes.
While being warm, mix with ●brown sugar.
3. Pre-heat at 180℃ in the oven. Make butter soften.
4. Sift * flour/powder.
5. Add half of sifted flour/powder and mix roughly and add 2 big spoon milk. Mix rest flour/powder and milk likewise.
6. Add sweet potato and black sesame and mix roughly.
7. Put the dough into a muffin pan and bake at 180℃ for 20-25 minutes.