Baked horse mackerel with bread crumbs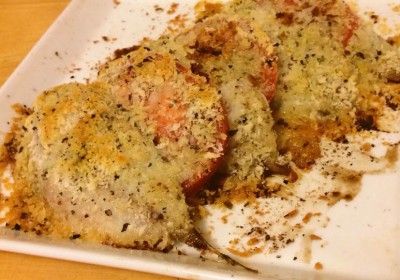 <Basic information>
・Serving size:2人 people
・Preparation time:15 minutes
・Calorie:243kcal
<Ingredient&Amount>
2 fillets horse mackerel
2 big spoons bread crumbs
1 big spoon grated cheese
1 small spoon dried basil
0.5g salt
2 big spoons olive oil
1 tomato
<Directions>
1. Flour salt on horse mackerel.
2. Mix bread crumbs, grated cheese and dried basil.
3. Cut tomato into round slices.
4. Alternate horse mackerel with tomato on the heat proof dish, sprinkle 2. and add olive oil circularly.
5. Back for 7-8 minutes until brown.
<Cooking point>
Please choose grated cheese excluding emulsifier.