Ohagi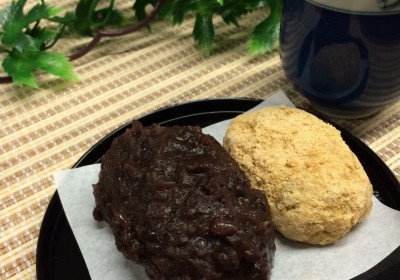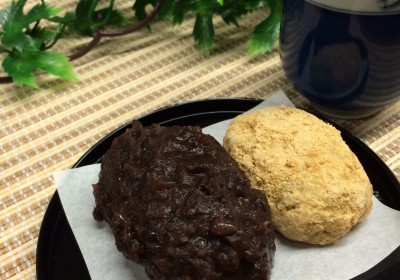 <Basic information>
・Serving size:4 people
・Preparation time:60 minutes
<Ingredient&Amount>
250g red bean
230g beet sugar
2 go (300g) sticky rice
A pinch of salt
3 big spoons toast soybean flour
1/5 small spoon salt
*A big spoon: 15g
*A small spoon: 5g
<Directions>
1. Pull water into a pan in order to cover red beans and boit it.
2. Once boil for 2-3 minutes, drain in a colander.
3. Pull water at 4-5 times of quantity of red means in a pan. Once boil, make the heat on medium heat and boil red beans until it get softened.
4. In the middle, once water dries up, add water always and cover red beans by water.
5. When red beans get softened, add sugar divided by twice.
6. Wash sticky rice and put it, water and salt on a rice cooker, soak for 30 minutes and cook sticky rice.
7. Once cooked, mash by a wooden pestile while it is hot.
8. Make balls of sticky rice, put red beans paste on the palm and cover ball of sticky rice by red beans paste.
9. Flour mixed toast soybean flour and 1/5 small spoon salt on ball of sticky rice.
<Cooking point>
It is a festival food for spring equinoctial week (the middle of March) and autumn equinoctial week (the middle of September).
Although it is also called "Bota-mochi" in Spring since it is a season for peony flowers, and "Ohagi" in Autumn since it is a season for bush clovers, they are just the same ones.
When it is hard to make red beans paste, you can make by available commercially red beans.
Also, other than red bean paste and toast soyben flour, it is popular to eat it by floured black sesame.