Oyako don (Rice bowl with chicken and egg)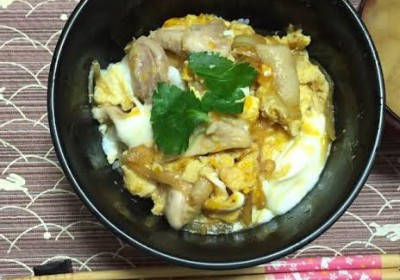 <Basic information>
・Serving size:1 person
・Preparation time:10 minutes
<Ingredient&Amount>
80g halal certified chicken thigh
110g (2 eggs) egg
50g onion
15g soy sauce
70g broth
10g honey
5g sugar
Proper amount of trefoil
180g rice
<Direction>
1. Cut onion into sliced pieces and cut chicken into bite sized pieces.
2. Put soy sauce, broth, honey, sugar and onion in a pan.
3. Boil on highly medium heat.
4. Add chickeen.
5. Boil on medium heat for furthermore 2-3 minutes, in order to heat chicken.
6. Add 2/3 beaten egg.
7. Cover and boil on low heat for 2 minutes.
8. Add remained beaten egg, cover and boil on medium heat for 10 seconds.
9. Put on rice and add trefoil.
<Cooking point>
It is a popular rice bowl menu in Japan and it is called "Oyako don (parent-child rice bowl)" since chicken (parent) and egg (child) are used.
We use honey instead of sweet cooking rice wine.