Chinese cabbage roll with Japanese sauce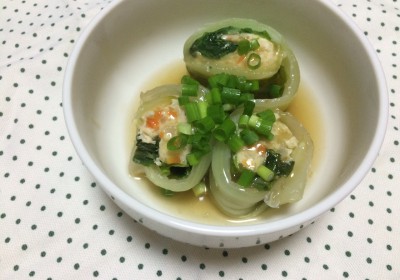 <Basic information>
・Serving size:2 people
・Preparation time:30 minutes
<Ingredient&Amount>
A:100g ground chicken
A:10g egg
A:20g onion
A:20g carrot
A:10g long green onion
A:1/2 small spoon ginger soup
A:1g salt
4 sheets of chinese cabbage
A pinch of salt and pepper
B:300ml seaweed broth
B:8g soy sauce
B:2g salt
B:5g sugar
1/2 big spoon water
1/2 big spoon starch
Proper amount of thin green spring onion
*A big spoon: 15cc/15g
*A small spoon: 5cc/5g
<Directions>
1. Chop carrot, onion and long green onion into fine pieces.
2. Put 1. and A and knead into gruel, and divide into quaters.
3. Pare cores of chinese cabbages, parboil lightly and drain off water well (Possible to heat by wrapped on a microwave).
4. Flour salt and peppet on chinese cabbages and wrap 1..
5. Put B and 1. (put under the end of the sheet) into a pan and heat on medium heat.
6. Boil until broth would reduce until half of the beginning quantity.
7. Turn off the heat once and remove rolls of chinese cabbages in advance.
8. Put water beated starch into remained broth in a pan and boil once more.
9. Put 8. onto chinese cabbage rolls, flour thin green spring onion and ready to serve.
<Cooking point>
When you roll, start to roll from the core side and pin the roll end by sticks, it would be hard to clump in.
Use chinese cabbage as winter vegetables and make up as effectve broth and kind taste.