Nagoya supeciality!Tenmusu (Tempura rice ball)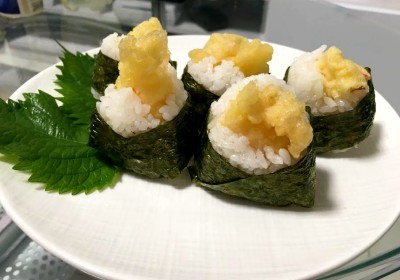 <Basic information>
Serving size: 20 pieces (For 4 people)
Preparation time: 40 minutes
<Ingredient&Amount>
10 shelled shrimp
☆20g soft wheat flour
☆A pinch of baking powder
☆A pinch of salt
☆40ml water
☆1/2 small spoon
500g rice
1/2 small spoon salt
20 pieces seaweed, a big sheet vertically divided into 8 equal pieces
<Directions>
1. Wash shelled shrimp and drain off the water.
2. Mix ☆ and make the coating.
3. Apply the coating to shrimp and fry, cut in half after fried.
4. Mix salt with rice evenly.
5. Take rice, the same size as a table tenis ball (approx 25g) on a hand, place shrimp and make a ball.
6. Wear a piece of seaweed from the back, such as maing it wear a kimono and ready to serve.
<Cooking point>
Make a ball to show shrimp tempura on the top quietly.