Gyudon (Beef rice bowl)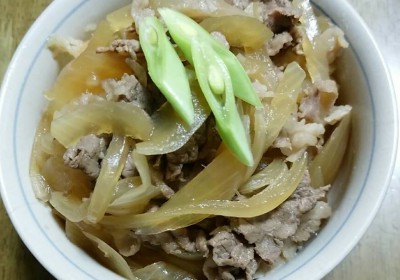 <Basic information>
・Serving size:1 person
・Preparation time:15 minutes
<Ingredient&Amount>
110g rice
60g halal certified chopped beef
50g onion
6g sugar
4g light soy sauce
4g dark soy sauce
<Directions>
1. Cut beef into easy-to-eat bite size pieces. Cut onion into wedges.
2. Cook beef in a fry pan until the beef color changes. Furthermore, add onion, once it gets wilted, add sugar and cook evenly.
3. Add soy sauce in drawing a circle and spread for a while.
4. Put them on rice and ready to serve.