Fried shrimp&fried squid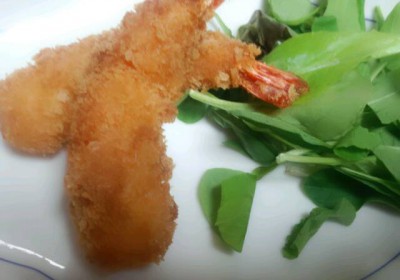 <Basic information>
・Serving size:1 person
・Preparation time:30 minutes
<Ingredient&Amount>
50g beheaded shrimp
30g squid roll
5g wheat flour
5g beaten egg
8g halal certified bread crumbs
5g canola oil
20g kidney bean
20g carrot
0.5g salt
◆Handmade tartare sauce
30g minced onion
A pinch of minced parsley
1g lemon juice
20g halal certified mayonnaise
0.3g salt
A pinch of pepper
A pinch of sugar
<Directions>
1. Wash shrimp and squid well, wipe by a kitchen paper well and flour salt.
2. Flour wheat flour on 1., apply beaten egg and put bread clumbs.
3. Fry in 180℃ oil.
4. Mix ingredients of tartare sauce.
5. Add boiled kidney bean and carrot as side dish and ready to serve.
<Cooking point>
It is necessary to be carefull in choosing sauce when you eat. Thus, post recipe of handmade tartare.
Although there is another way by cooking with pickles when you make tartare sauce, we avoid it because vinegar of the pickles may include alcohole components.