Cream stew (Allergy alternative correspondence)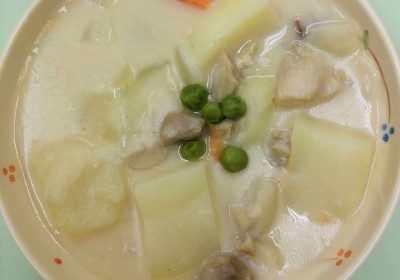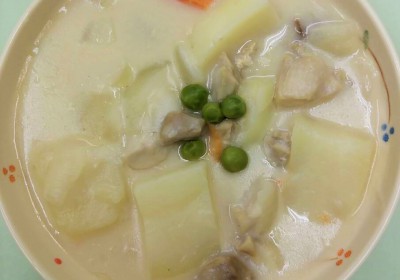 <Basic Information>
– Quantity: 1 servings
– Cooking time: 40 minutes
<Ingredients >
60g Halal chicken thigh
80g Potato
20g Carrot
60g Onion
5g Green peas
1g Salad oil
8g Butter
8g Flour
50cc Milk
0.8g Salt
Pepper
■ soup
3g Alishan vegetable bouillon
100g Boiling water (chicken broth if possible)
<Directions>
1, Cut the chicken into bite sized pieces, and dice other vegetables mix all the ingredients and keep side.
2, Heat the oil in a pan, and fry the chicken, and add the vegetables, and add the soup cook until tender.
3, Melt the butter with another pan, add the flour then add warm milk little by little to make the white sauce, In this case, not to scorched, to stirring constantly.
4 Add the white sauce into the soup, simmer it for couple of minutes and now it's done
.
<Point of cooking>
Without using the flour, butter, milk, you can substitute with rice flour 15g and soy milk 50g.
Also making white sauce is also available in a microwave oven.
In that case, put the butter in a heat-resistant container, flour, put the milk in the half, and microwave it 500w 40 seconds.
Take out and mix well with whisk put the rest of milk and microwave it for 30 sec now its done.