Simmered chicken and tomato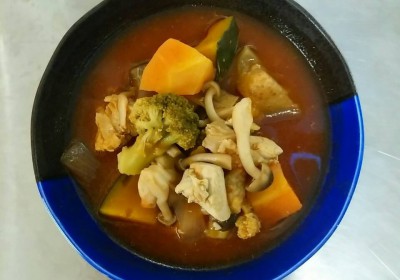 <Basic information>
・Serving size:1 person
・Preparation time:30 minutes
<Ingredient&Amount>
60g halal cerified chicken thigh
20g onion
30g egg plant
20g pumpking
30g broccoli
10g carrot
20g shimeji mushroom
50g tomato puree
alishan vegetable bouillon 0.8g
100cc water
0.5g salt
A pinch of pepper
<Directions>
1. Cut chicken into dice pieces, cut onion, egg plant, pumpkin, broccoli and carrot into same size pieces.
Remove butt end of shimeji mushroom and flake them.
2. Put water, vegetable bouillon and materials 1. in a pan, add tomato purre after boiled once, boil on medium heat for approx 5 minutes more.
3. Add salt and pepper at last to adjust the taste and ready to serve.