Simmered and overlapped apple and sweet potato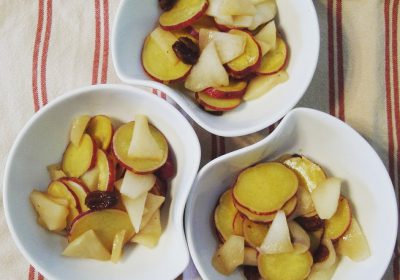 <Basic information>
・Serving size:1 person
・Preparation time:20 minutes
<Ingredient&Amount>
60g sweet potato
20g(approx 1/6)apple
2g butter
5g beet sugar
0.1g salt
60cc water
<Directions>
1. Cut sweet potato and apple into quarter slices. For sweet potato peels, wash well and leave it (do not remove).
2. Put all of ingredients in a pan and boil on medium heat for 10-15 minutes until wilted.
<Cooking point>
It is delicious if you add raisin or prune.
If you add a few drops of lemon juice, it would be clear and sweet sour.