Tai no aradaki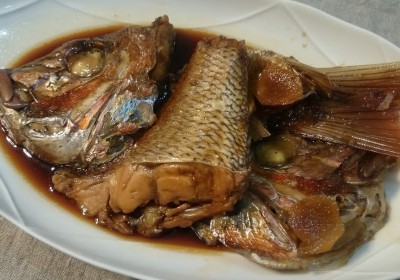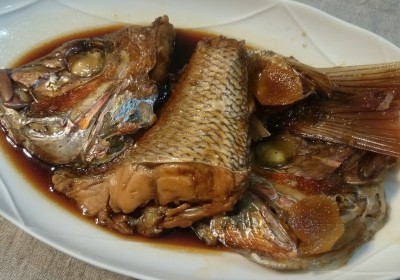 <Basic information>
・Serving size:1 person
・Preparation time:40 minutes
<Ingredient&Amount>
1 tai-no-ara
100cc water
15cc soy sauce
4/3 big spoon beet sugar
1 small spoon honey
3mm×2pieces sliced ginger
<Directions>
1. Wash tai-no-ara well, put them in colander, pull hot water (excluding the ingredient) around and wipe by a kitchen paper.
2. Put water, soy sauce, beet sugar and honey in a fry pan, once boil, add tai and ginger.
3. Put a drop lid by such as alminum roil etc, boil on medium heat for approx 20-30 minutes.
In the middle, when the juices reduce by half, pull broth around
from the top of tai, let the seasoners soak.
4. When broth get thickened, ready to serve.
<Cooking point>
"Ara" of fish is parts of a head, a bone or a fillet etc.
Since you can extraxt broth from bone even if there are few meats, it fits for simmered food.  Also, it is cheap and reasonable for a wallet.
In order to remove fish smell, it is a point to prepare well and boil by adding ginger.