Joined MIHAS 2017 as a demonstrator of Japan Pavilion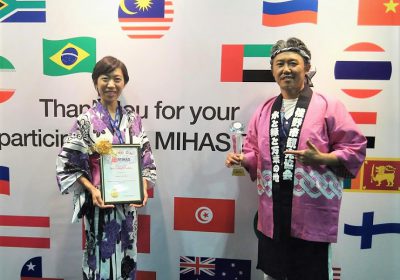 Mai HIEDA joined MIHAS, the world largest HALAL showcase, as a live kitchen demonstrator of Japan Pavilion from 5th-8th April, 2017 in KL.
During the exhibition, fresh aquaculture bluefin tuna from Ehime prefecture which was air-transported by Halal Logistics, Nippon Express Co., Ltd., and Halal Japanese food with HALAL certified by JHA (Japan Halal Association) were served as tasting foods.
Many Muslims visited Japan Pavilion and enjoyed Japanese authentic cuisine.
On the 2nd day, The minister of MITI(Ministry of International Trade and Industry)visited Japan Pavilion and enjoyed fresh tuna and sushi.
Moreover, we Japan Pavilion were awarded the "Best Country Pavilion" which is put on the best pavilion during the exhibition!
It was the meaningful experience for me to appeal Halal Japanese food overseas.
I would like to express my sincere thanks to Nippon Express Co., Ltd. who gave such a wonderful opportunity and I would like to express my gratitude to many of you who supported me. Thank you very much!
※We will help you manage the exhibition both in Japan and abroad. Please do not hesitate to hear from us.