Nikkoken special! Taco rice with Life chili sauce by Dainari GOKA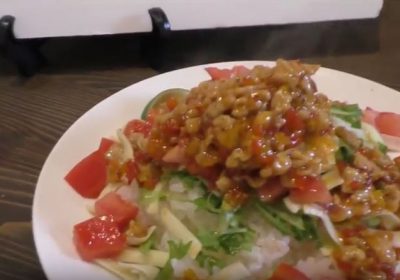 <Basic information>
・Serving size : for a person
・Preparation time:10 minutes
<Ingredients & Amount>
・A big spoon of Oil
・200g Cooked rice
・60g Minced Chicken
・a proper amount of minced paprika (red & yellow)
・a proper amount of black pepper
・1/2 small spoon of salt
・2 big spoon of Life chili sauce
・2 leaves of lettuce
・30g cheese
・1/3-1/2 tomato
<Directions>
1, Minced red and yellow paprika, sliced lettuce, and cut tomato roughly.
2, Put the oil into a pan. Add minced chicken and stir-fly with medium heat.
When chicken's color changed a little, add paprika. Season with salt and pepper.

3, Put Life chili sauce and stir-fly well. Mix well so that the source spreads throughout.
Stop the fire when the source is boiling down.
4, Put a hot rice, lettuce, cheese and tomato on the dish.
Then put 3 meat on the rice.
<Cooking Point>
・Please choose melted type cheese. In Japan, it's called "Torokeru Cheese".
・If you add more brack pepper, taste will be spicy more.
・If you have lime, please cut into 1/8 size and squeeze. You will enjoy more.
・If you cook many taco-meat and frozen, you will eat anytime Taco rice that you want!