Fried Tofu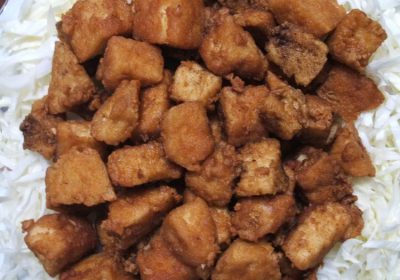 <Basic information>
・Serving size:2 people
・Preparation time:20 minutes
<Ingredient & Amount>
・1 cotton tofu (approx 300-350g)
・2 big spoon soy sauce
・Proper amount of grated garlic
・Proper amount of starch
*1 big spoon: 15cc
<Description>
1.  Cover tofu with kitchen paper and put into a heat-resistant container, and drain water off by making it warm at 500w for 4 minutes (or, at 600w for 3 minutes).
2. Put 1. into a bowl, add soy sauce and grated garlic, knead by hand and arrange the taste.
3. Add starch and knead till it gets sticky.
4. Tear a piece at the size as you like, with hands and drop into heated oil.
5. Fry until it gets brown and ready to serve.
<Cooking point>
Recommended for vegetarian or vegan people who cannot eat meat.