Simmered sardine with Japanese plum flavor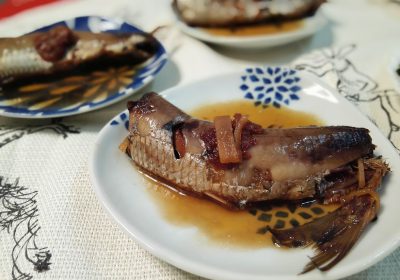 <Basic information>
・Serving size:1 person
・Preparation time:15 minutes
<Ingredient&Amount>
・3 pieces small sardine or 1 piece big sardine (after removed a head and gut)
・A piece of ginger
・1 pickled Japanese plum
・2 small spoon soy sauce
・1 big spoon sugar
・1 small spoon sweet rice cooking wine  (halal certified)
・50cc water
*1 small spoon: 5cc
1 big spoon: 15cc / 15g
<Direction>
1. Remove a seed from Japanese plum by hand.
2. Put soy sauce, sugar and sweet rice cooking wine into a small pan, boil them and add sardine.
Once it boils, add ginger and Japanese plum, make a drop lid and boil on low heat for 10 minutes.
<Cooking point>
・Choose usable one with reference to the food labeling.
・You can add Japanese ginger or welsh onion for addition. It shall be delicious once it cools down.
・For a lunch box, it would be nice after you boil sauce.