Rice with bamboo shoots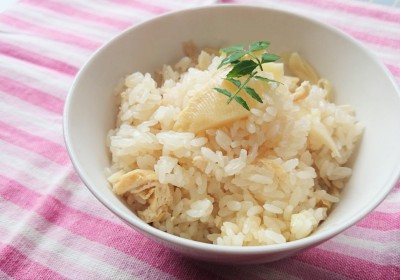 <Basic information>
・Serving size:4~5 people
・Preparation time:120 minutes
<Ingredient&Amount>
・450g rice
・Approx 200g bamboo shoots (Takenoko)
・1/2 big size sheet deep fried tofu
■Grated radish soup for skimming off foam
・1/2 radish
・300cc water
・Salt at 1% of squeezed soup
■Broth
・1 big spoon light soy sauce
・2/3 small spoon salt
・2 small sugar
・200cc broth
<Direction>
1. Skim off foam of bamboo shoots.
Peel its skin of radish, cut 1/4 lengthwise and coarsely and put them into a food processor.
And add water to it and turn on the food processor.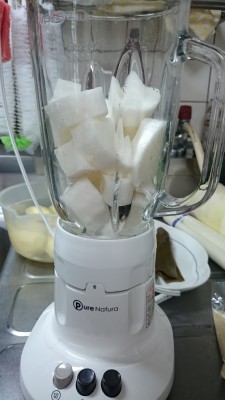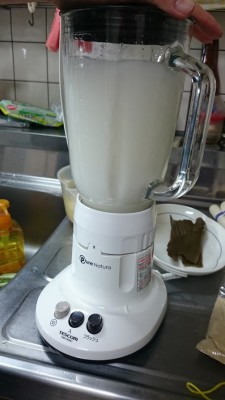 When radish gets ground, put a baking paper on a strainer and put grated radish and acquire squeezed juice.
Measure the quantity of squeezed juice, add squeezed juice and the same amount of water, and salt at the 1% of the whole amount and concentration.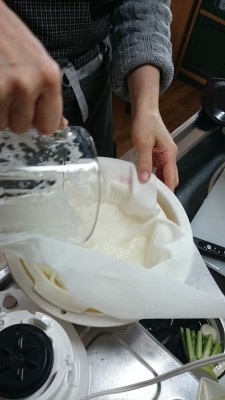 2. Peel skin of bamboo shoots, cut quarters lengthwise and slice thinly.
Add cut bamboo shoots to 1. and leave for an hour.
After an hour passes, drain off water on a strainer.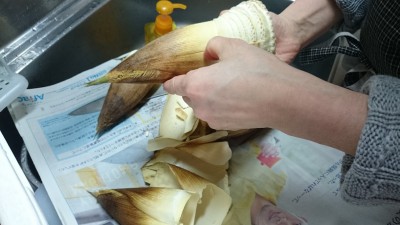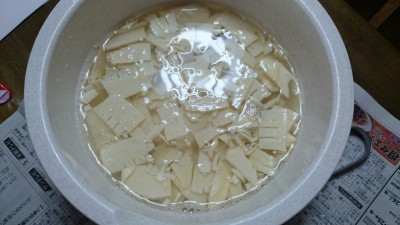 3. Put bamboo shoots into a pan and add ingredients of broth.
At the moment, pour in enough broth to cover (If the prescribed serving size does not fill the amount to cover, increase broth.).
Keep this condition and cook on medium heat for 5-6 minutes.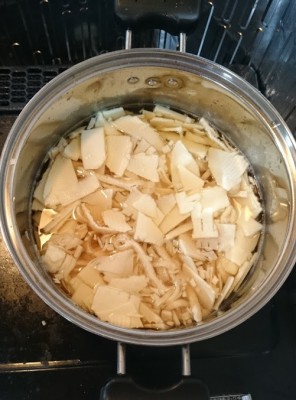 4. When bamboo shoots get crunchy, turn off heat and cool them down on a strainer by separating materials from soup.
5. Wash rice, drain off water and leave for 30 minutes.
Cut deep fried tofu into thin strips. It is not necessary for oil removing.
6. Put rice in a rice cooker and cool broth at the level of 3 go mark (rice unit, 3合 shown in Japanese).
After that, add cool bamboo shoots and deep fried tofu and turn on the rice cooker.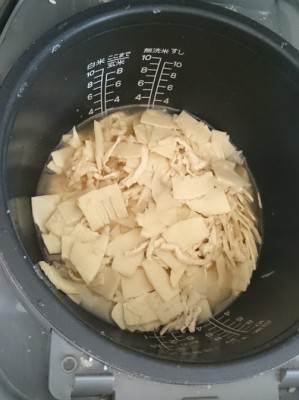 <Cooking point>
・If you use bamboo shoots in spring water, please start from 5. after cut into thin strips.