Tofu steak with starchy sauce of mushroom and ginger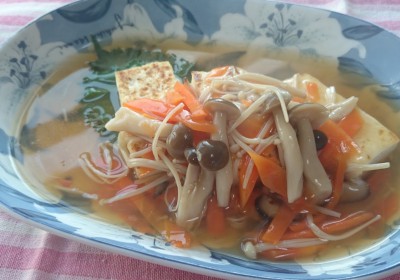 <Basic information>
・Serving size:1 person
・Preparation time:20 minutes
<Ingredient&Amount>
・150g firm tofu
■Starchy sauce
・1/2 package shimaji mushroom
・1/2 package enoki mushroom
・Carrot sauté
・60g broth
・Pinch of salt
・1 small spoon soy sauce
・1/2 small spoon sugar
・1/2 small spoon grated ginger
・1/2 small spoon starch
・1/2 big spoon water
*1 small spoon: 5g/5cc
1 big spoon:15g/15cc
<Direction>
1. Wrap firm tofu by a baking paper and drain off water for 10 minutes. It is not necessary for putting weight.
After drain off, cut into quarters.
For mushrooms, cut the butt end and take apart mushrooms.
2. Put oil in a fry pan and cook tofu for each side for 2 minutes.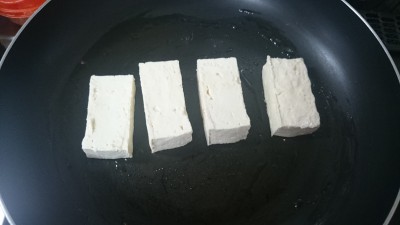 3. Make starchy sauce.
Put broth, salt, soy sauce, sugar, grated ginger and mushrooms in a small pan and heat on medium heat for approx 3 minutes.
Make starch with water in another bowl, once heat broth, turn off heat and add starch with water in rolling.
After that, turn on heat again and mix in warming.
4. Put tofu steak on a plate, add starchy sauce from the top and ready to serve.
<Cooking point>
・In order to draw delicious taste from tofu, add sugar and grated ginger for an accent.