Lotus dumpling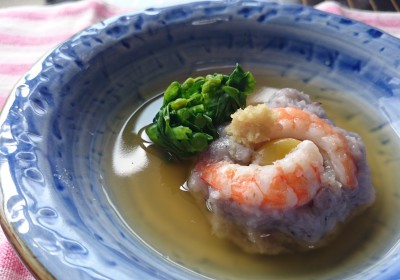 <Basic information>
・Serving size:4 people
・Preparation time:30 minutes
<Ingredient&Amount>
■Dumpling
・200g lotus
・20g(4 pieces) shelled shrimps (Fresh shrimps are also available)
・12 pieces of ginkgo nuts or green soybeans
・1 small spoon starch
・1/3 small spoon beet sugar
・Pinch of salt
■Starchy sauce
・60g broth
・Pinch of salt
・1/2 small spoon soy sauce
・1/2 spoon starch
・1/2 big spoon water
・Pinch of grated ginger
・Proper amount of some greens
*1 small spoon: 5g/5cc
1 big spoon: 15g/15cc
<Direction>
1. Peel lotus skin and grate 3/4 of lotus.
Chop remained 1/4 of lotus and mix with grated lotus.
2. Mix 1. with starch, beet sugar and salt well. After mixed, quarter them.
3. Put plastic wrap in a cup, put 2., and also put shrimp and ginkgo, make a small ball by squeezing.
4. Heat a steam cooker, once give off steam, steam small ball covered by plastic wraps for 0 minutes.
After steamed, turn off heat and cool them down in a pot.
5. Make starchy sauce.
Put broth, salt and soy sauce in a small pan and heat it.
Make starch with water in a bowl and once broth gets warmed, put starch with water in swirling.
After that, turn on heat again and mix with making it heat.
6. Put 4. Lotus dumpling on a plate, add 5.paste and grated ginger at last and ready to serve.
If you add some greens such as colorful field mustard, it looks better.
<Cooking point>
・When you make starchy paste, it shall get to set after adding starch and start boiling. And thus, it tends to clump.
In order to make smooth starchy paste, if you turn off heat once and then add starch with water, you could make it better.