Rice cooked with sweet potato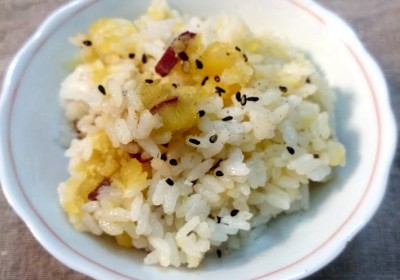 <Basic information>
Serving size: 2 person
Preparation time: 70 minutes
<Ingredients&Amount>
1 cup Rice
1/4 Sweet potato
5cm×2cm Sea tangle
A little under 1/2 small spoon Coarse salt
<Directions>
1.Wash up rice and put it into a colander to drain up. Leave it for 30 minutes.
2.Wash sweet potato carefully. Cut a half part of it into quarter and the other part into dice. Put it in water.
3.Put rice and water in a rice cooker and set it as a rule. Add sea tangle, sweet potato and coarse salt in it, and cook rice.
4.After 3 cooked, sprinkle sesame and salt from above. Finish.
<Cooking point>
Sweet potato that is fall flavor contain many dietary fiber and vitamin C. This simple rice cooked makes children happy by natural sweet flavor and subtle seasoning with salt.