Spinach with sesame dressing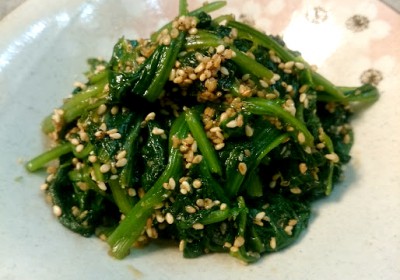 <Basic information>
Serving size: 1 person
Preparation time: 10 minutes
<Ingredients&Amount>
1/4 Spinach
1/2 Big spoon Sesame grinded
1/4 Big spoon Beet sugar
1/4 Big spoons Soy sauce
<Directions>
1. Wash spinach, especially root, and blanch it with boiling water for 30~60 seconds.
2. Cool 1 with running water. Cut it into 4cm pieces after squeeze it.
3. Add sesame grinded, beet sugar and soy sauce in a bowl and mix it. Add 2 to it and continue to mix it. Finish.