Kimpira-gobou (Chopped burdock cooked in beet sugar and soy sauce)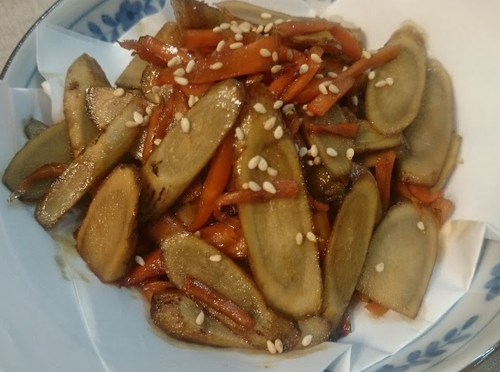 <Basic information>
Serving size: 1 person
Preparation time: 25 minutes
<Ingredients&Amount>
1/4 Burdock
1/4 Carrot
1/2 Big spoon Soy sauce
1/2 Big spoon Beet sugar
1 Small spoon Sesame oil
Suitable amount Sesame
<Directions>
1.Wash burdock and carrot to remove soil.
2.Cut diagonally burdock into 5mm slices and steep it to remove the bitter. Cut carrot into slice thinly.
3.Add sesame oil to a pan, heat up it over a medium flame and add burdock and carrot in the pan. Add beet sugar and stir fly it after mix roughly the vegetables and sesame oil.
4.After 3 smells sweet like a camel, add soy sauce in the pan and stir fly it until lose water.
5.Dish up 4 into a plate and sprinkle sesame frome above. Finish!
<Cooking point>
I incorporated the idea of macrobiotic into this plate as using peel of vegetables.
Burdock contain many insoluble dietary fiber, so you can prevent and improve constipation.