Chicken and mushrooms Japanese style Saute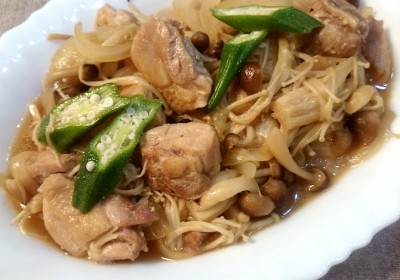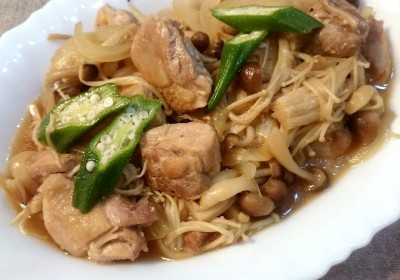 <Basic information>
Serving size: 1 person
Preparation time: 20 minutes
<Ingredients&Amount>
1/2 Halal chicken thigh
1/4 Onion
1/2 Pack enoki mushroom
1/2 Pack shimeji mushroom
1 Okra
25cc Dashi (Japanese broth)
3/4 Big spoon soy sauce
Suitable amount Salad oil
<Directions>
1.Cut chicken thigh into bite-sized. Cut hard tips of enoki and shimeji mushrooms and break up it into pieces.
2.Put oil in a pan, burn chicken thigh from skin side. Finished cooking that side, burn the other side.
3.After 2 finished, put onion, enoki and shimeji mushrooms in the pot widely, add dashi (Japanese broth) in it, bake it in a covered pan over medium flame for 3 minutes.
4.Open it once and mix it roughly, add soy sauce as turning it, and bake it in the covered pot for 2 minutes. Finish!
<Cooking point>
This dish is that you could add a little soy sauce because of the taste of material.