Homemade pickles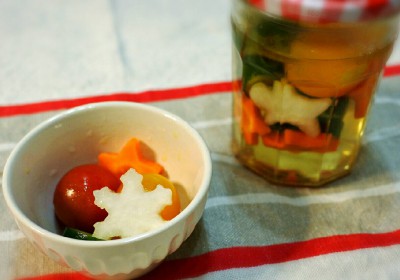 <Basic information>
・Serving size:2 people
・Preparation time:10 minutes+1 hours pickling time
<Ingredient&Amount>
・50cc apple vinegar
・50cc plain hot water (Once boiled and then make it cooler)
・A big spoon sugar
・1/2 big spoon salt
・1/2 big spoon olive oil
・Preferable vegitables
e.g.)Cucumber, Cherry tomato, Carrot, Radish
*A big spoon: 15g
<Directions>
1. Disinfect a storage bottle in boiling water.
2. Put all seasoners into a bottle and mix them well.
3. Cut a cucumber into 1cm-width round slice. Take off a stem end of a tomato.
Cut a carrot and a radish into 5mm-width round slice. It looks cute if you use a punching die as you like.
4. Put vegitables into a bottle, pickle for an hour and ready to serve.
<Cooking point>
・Use halal certified vinegar. If you cannot get it, use non-alcohol one.
Since the taste is different depending a kind of vinegar, please change the taste as you like.
・Since the total amount increases if you put vegitables, please prepare a bigger bottle.
This time, we used a bottle of 385ml size, just for your information.