Report of 3rd halal cooking event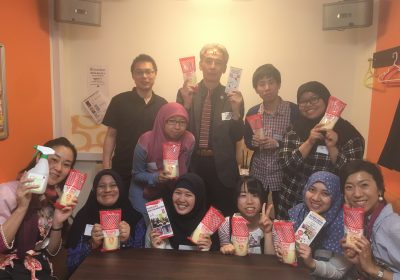 On Saturday, 21 May, 2016, the 3rd Muslim friendly washoku cooking event was held at Yotsuya sanchome shop of Karaoke Honpo Manekineko (Koshidaka Co., Ltd.), where holds the only halal certification in Karaoke shops of Japan!
This time, we have prepared the program to experience Japanese culture both "Temari sushi cooking and Karaoke experience" at the same time.
On the day, nice people, six Muslim women who were from Indonesia and Malaysia and have studied in Japan and three Japanese people, joined the event. We used combined vinegar (Already acquired halal certification) offered from Yokoi Vinegar Brewing Co.,Ltd., cooked Temari sushi.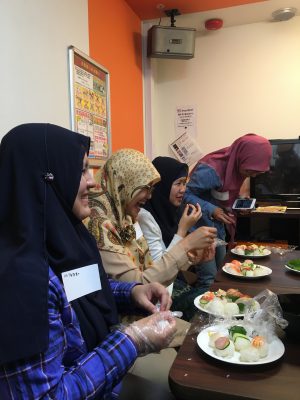 Since Muslim women participants experienced to make vinegar rice and Temari sushi for the first time, they were pleased with smiles, in saying "Fun!" "Delicious!".
For their souvenirs, we gave them a sample of Kewpie mayonnaise Japanese style (Already acquired halal certification) offered by Kewpie Corporation, they were also happy to have them.
After meal, we had a big Karaoke time! All Japanese participants were surprised that international students sang Japanese songs very well.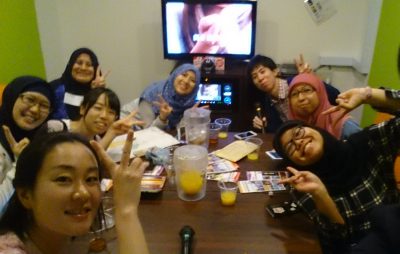 A Japanese university student who joined the event for the first time commented "Even if our borders and religions are different, we are the same. I had much fun. I would like to join it again" and it was a friendly event from  beginning to end.
Hence, we would like to share with participants, as for what we can enjoy eating the same meal all together, regardless of religious, borders, sex and the age, if we have right knowledge and some arrangements.
Next, we shall hold the handmade dumpling event, from 17:30, Saturday, 16 July 2016!
We are looking forward to having you join the event and sharing the time of "Happy Hari Raya Aidilfitri"!
Host: Tsutau Co.,Ltd.
Co-host: Yotsuya Sanchome shop, Karaoke Honpo Manekineko
Sponsor: Kewpie Corporation, OMAKASE
Instructor : Mai Hieda