Warabimochi (A bracken-starch dumpling)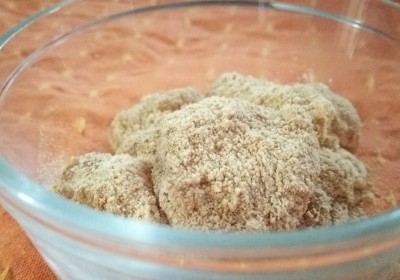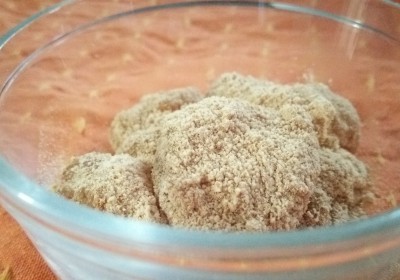 <Basic information>
・Serving size:1 people
・Preparation time:10 minutes (Excluding a cool down time)
・Calorie:92 kcal
<Ingredient&Amount>
■Ingredient of sticky rice cake
40g starch
1 big spoon sugar
170g water
■Ingredient of toast soybean flour
30g toast soybean flour
2 big spoons sugar
*A big spoon: 15g
<Directions>
1. Put toast soybean flour into a vat (If there is no vat, use a tupperware) and mix them.
2. Put the ingredient of sticy rice cake and heat on low heat.
3. When starch get sticky, put it into a container which has already put toast soybean flour.
4. Divide by a spoon etc, and make proper balls and cool them down in a refrigerator.
<Cooking point>
It is one of Japanese traditional sweets.
It is delicious if you put black syrup or maccha.
If you leave longer, As it would be hard if you leave longer, please eat earlier.