【Serial Column】Action for HALAL by Japanese knowledge and skill Vol.1 Vinegar・Sweet cooking rice wine -Yokoi Vinegar Brewing Co.,Ltd. – Prequel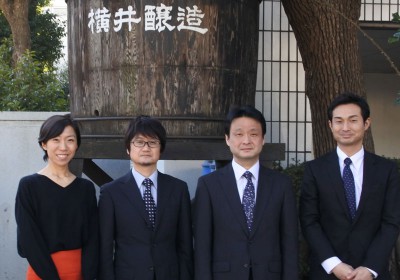 It is a new serial interview by Professor. Seiichi Kasaoka, Faculty of Health and Dietitian at Bukyo University that he shall analyze halal certified foods in Japan from the view point of food science. For the first series, we heard from Taro Yokoi, the President of Yokoi Vinegar Brewing Co., Ltd. which acquired halal certification for vinegar and sweet cooking rice one, regarding background of acquiring halal certification and attractive points of their products. We shall introduce the interview digest through 3 series total of prequel, novella, and sequel. (Hieda Mai, Writer)
Prequel:Being favorite by restaurants listed in the Michelin guidebook! Vinegar for a sushi restaurant
Kasaoka, Professor (Hereinunder "Kasaoka")First, please introduce your company.
President, Yokoi(Hereinunder "Yokoi") Our company established in 1937, and this year will be 79th business year. The established place is in Kiba, and my grandfather originally managed a timber merchant.
However, sales of a timber merchant has lots of up and down, and my grandfather thought that he would like to manage the stable sales, changed the industry drastically and started the vinegar company, that is the beginning of current Yokoi Vinegar Brewing Co., Ltd.
Why our company chose the vinegar is that sushi restaurants were opened in sequence at that time around Nihonbashi, through Tsukiji or Ginza near Kiba. Now we wanted to do business with those sushi restaurants. What were a thing which a sushi restaurant used and a wood which we dealt? Then a wood was related to a barrel, and we got to make vinegar made in a barrel.
At first, we were criticized it was not delicious at all. Of course, a timber merchant suddenly started to make vinegar (wry smile). Then there was a temporary staffing company to send a worker to a sushi restaurant at that time and my grandfather asked the company to look for a person to teach us vinegar for a sushi restaurant. After that, we repeated to be taught and improved how to produce vinegar.
However, for several years first, if we brought vinegar to a sushi restaurant, it was disposed by a sushi maker promptly.
(Kasaoka)No way!? Was it disposed?
(Yokoi)Yes(Wry smile). They pull vinegar on hot rice at a sushi restaurant, right? At that time, first it comes "smell". It was hard to make them accept the smell. Finally the smell was passed, we had to clear "taste" at the next moment.
Still now it has been handed down a funny story "Your Yokoi vinegar used to dispose a lot". What was hard to complete was the main product "Akasu" selling for sushi restaurants currently.
Therefore, more than a half of business partners are sushi restaurants recently.
(Kasaoka)You completed without giving up, wow impressive!
Most of sushi restaurants in Tokyo listed in a Michelin guidebook use Yokoi vinegar, don't they?
(Yokoi)Yes, not only sushi restaurants listed in a Michelin guidebook, but also many long-established sushi restaurants introduced with favor. It is the our company feature that we have dealt with respective sushi restaurants for a long time.
(Kasaoka)I see. Yokoi vinegar supports many Edomae Sushi. It is great.
★Special Event★ Cook temari sushi with "Yokoi vinegar"!
News open for a Muslim friendly washoku cooking event. vol.1, on Sat, 27 February
We shall prepare halal certified vinegar for this time especially, that of Yokoi Vinegar Brewing Co.,Ltd., which has not been sold for general!
For both Muslim and non Muslim people, let's make delicious sushi by "Yokoi Vinegar" together!
Click here for details and application >>